ភូមិខ្មែរ
Khmer Village
There are many types of houses in Khmer village such as house Peth, house Kantaing, house Raungdoeung, Sala Chan as a small pagoda… etc which are the main model houses of Khmer people, they make their living by farming, making palm sugar, rice storage, carving, weaving, crafting farm, making clay pot, fishing and popular games.
……………………………………………………………….
……………………………………………………………….
……………………………………………………………….
……………………………………………………………….
ផ្ទះសេដ្ឋី



Millionaire House
Millionaire House, where for the ancient rich man stay, is an old style of Khmer construction that remains from OUDONG period up to now. The hold building of this house is using with very good quality equipment and wood. At here you will see the traditional Khmer style wedding ceremony.
……………………………………………………………….
……………………………………………………………….
……………………………………………………………….
……………………………………………………………….
ភូមិអ្នកនេសាទ



Floating and Fishing Village
In the Southern of Siem Reap Province, there is Chong Khneas Village, Kampong Pluk located along the riverbank of Tonle Sap Lake. They make their living by fishing in normal form with the small boat or work for the farming in the floating field. They believe in Buddhism and before they went for fishing they like to pray for happiness and yielding as much of fish from the guardian spirit.
……………………………………………………………….
……………………………………………………………….
……………………………………………………………….
……………………………………………………………….
ភូមិភ្នង



Phnorng Village
Phnorng people live in the Northeast of Mondulkiri Province where a lot of natural resources. Their houses are look Oval sharp with the roof droop close the land similar to the house in Africa. The principle in their life is growing crops, farming, and hunting. They believe in animism.
……………………………………………………………….
……………………………………………………………….
……………………………………………………………….
……………………………………………………………….
សមាគមខ្មែរឯនាយសមុទ្រ
Khmer Association Oversea
Khmer people leave their country to live abroad especially in Califonia in USA.We show about life style, there are houses and Church and….
……………………………………………………………….
……………………………………………………………….
……………………………………………………………….
……………………………………………………………….
ភូមិចិន
Chinese Village
Chinese people have been moved to live in Cambodia more than thousand years ago. Most of them are dealing small business, crop and vegetable; some of them are successful businessman. They believe in Buddhism.
……………………………………………………………….
……………………………………………………………….
……………………………………………………………….
……………………………………………………………….
ភូមិក្រឺង



Kroeung Village
Kroeung people live in the Northeast of Cambodia in Rattanakiri province where plenty of natural resource. They make their living by hunting, husbandry, farming. They believe in animism. The girl has own right to choose the fiancé by herself.
……………………………………………………………….
……………………………………………………………….
……………………………………………………………….
……………………………………………………………….
ភូមិចាម



Cham Village
Cham people live almost everywhere in Cambodia.They make their living by fishing, blacksmithing, the principle religion in Islam (Preah Allah).
……………………………………………………………….
……………………………………………………………….
……………………………………………………………….
More beauty of these villages and culture, Go to Siem Reap, CAMBODIA
........................................................................................................................
........................................................................................................................
Wax Museum of Cultural Village in Cambodia
Cambodian Cultural Villages has two museums that exhibit the well-know persons of Cambodia since the century until the present such as queen, king, general army, ambassador, monk, ethnic minority, movie star, Apsara dance and the way of how Angkor Wat temple was built by ancient Khmer, Khmer lifestyle during the Angkorian period and the breath-taking human figures with various paints. There are more than thirty wax statues that show about the development of Cambodian Cultural from the first century up to 20th century.
Lieou ye
First queen leaded in the period of Nokor Funan in the 1 st century.
King Jayavaraman VII and His Princess Indradevy
He restored Angkor Wat temple, and built Bayon Temple and many more.
Krola Hom
General Army in 16th Century, and fighting against Siam Army.
Zhou Da Guan
Chinese Ambassador in 13th Century. He wrote a lot of documents about Khmer tradition and history ( Chenla Period ).
King Ang Doung
He was throne from 1845 to 1860. He was good at writing Khmer poems and novels.
King Norodom Suramarith and Queen Sisowat
Kossamak
King Norodom Suramarith and Queen Sisowat KossamakThe parents of King Norodom Sihanouk (King of Cambodia in present time). King Norodom Suramarith was throne from 1955 to 1960.
Samdach Penn Nouth
(1906-1985), who was the advisor to king Norodom Sihanouk.
Chon nath
(1883-1969), who was Khmer patriarch in Cambodia. He was well know at Khmer history, tradition,
literature and religion.
Phirum Ngoy
He was famous in classical singer during 1865 to 1936 (71 years).
Khmer Nationality
Tribal group lives in Mondulkiri Province (Northeast of Cambodia). They do farming and hunting for their living life.
Kroeung Nationality
Minority group lives in Ratanakiri province and does farming and hunting.
Sin Sisamuth and Ros Serysothea
The most popular singers in 1960 and died in Khmer Rouge period.
Happiness family
Happiness family shows the prosperous Khmer family.
Movie star 1960s
Movie star 1960s, such as Mr. Kong Somounh and Mrs. Dy Saveth.
Uniform of Military
Uniform of Military Commander at present time.
Apsara Sampeah
Khmer Style to say goodbye and thanks to all of guests when go.
SIEM REAP, CAMBODIA
/////////////////////////////////////////////////////////////////
Cambodian Currency
...............................................................................................................
Khmer Beauty
When you are viewing this picture , you can dream about them but just only dream ! ha
អូនស្អាតអស់ទាស់!
.............................................................................................................
Khmer Alphabet
Khmer alphabet
Origin
The Khmer alphabet is descended from the Brahmi script of ancient India by way of the Pallava script, which was used in southern India and South East Asia during the 5th and 6th Centuries AD. The oldest dated inscription in Khmer, found at Angkor Borei in Takev Province south of Phnom Penh, dates from 611 AD.
The Khmer alphabet closely resembles the Thai and Lao alphabets, which were developed from it.
Notable features
This is syllabic alphabet in which each consonant has two forms, one with an inherent /a/ (first series) and one with an inherent /o/ (second series)
Vowels are indicated using either separate letters or diacritics, which written above, below, in front of, after or around consonants. The pronunciation of the vowels depends on whether a consonant they are attached to is of the first or second series.
All consonants have a subscript form which is used to write the second consonant of a cluster.
In a Khmer text there are no spaces between words, instead spaces indicate the end of a clause or sentence.
Inspite of efforts to standardise written Khmer, many words have more than one accepted spelling.
Used to write:
Khmer
(Cambodian), a member of the Mon-Khmer group of Austro-Asiatic languages, spoken by about 8 million people in Cambodia, Vietnam, Laos, Thailand, China, France and the USA. Khmer shares many features and much vocabulary with Thai as a result of centuries of two-way borrowing. There are also borrowings from Sanskrit, Pali, French and Chinese in Khmer.
Khmer alphabet
Consonants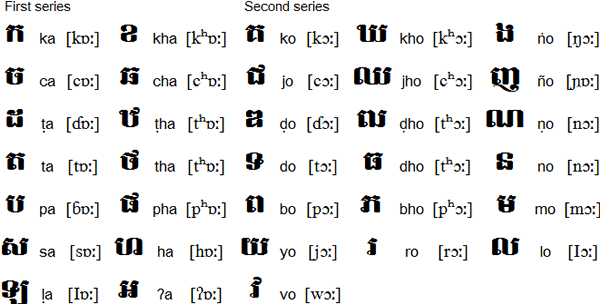 Subscript consonants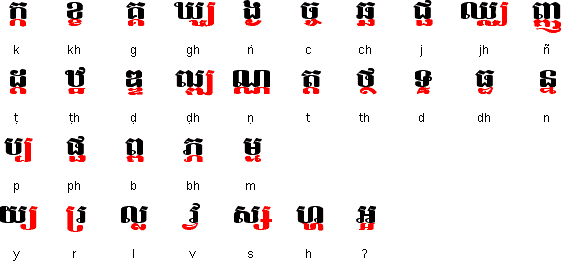 Inpedendent vowels

Numerals
Sample text

Translation
All human beings are born free and equal in dignity and rights. They are endowed with reason and conscience and should act towards one another in a spirit of brotherhood.
(Article 1 of the Universal Declaration of Human Rights)
Customs and Lifestyle
Diet and Eating
Soup and rice are the main components of the Cambodian diet. A bowl of soup may have any combination of fish, eggs, vegetables, meat, and spices. More than 20 years ago, Cambodia was known as "the cradle of rice", and many different varieties were grown in the various regions. Today, Cambodia is less productive, and fewer varieties are grown. Rice is prepared in many ways and is eaten at every meal. Vegetables and a wide variety of fruit are available throughout the year. Seafood and fish are also common.
Cambodians eat with chopsticks, spoons, or their fingers, depending on the food and family custom. Food that has been influenced by Indian, Chinese, and European cuisine is also enjoyed. In general, Cambodian food is less spicy than in neighbouring countries such as Thailand.
Recreation
Most of Cambodia's recreational facilities were destroyed or fell into disrepair during the late 1970s and the 1980s. Today, however, the people enjoy football, table tennis, volleyball, and badminton. They also dance, play music, and sing. Video cassette recorders (VCRs) are becoming more accessible and are used to create small village cinemas. Other leisure activities include picnics, card playing, and Sunday rides on bicycles or motorcycles. Festivals and weddings provide other recreational high points.
Among friends and relatives, visiting is frequent and usually unannounced. People remove their shoes when entering a home or wat (a temple for worship and religious education). A houseguest may be greeted with a bouquet of jasmine flowers placed on his or her desk or table. In general, Cambodians are extremely hospitable, although they may be cautious about inviting strangers into the home. If a meal is provided, guests are given the best place to sit and the best portion of food.
Holidays and Celebrations
Cambodia's national holidays include Liberation Day (7 January), Victory Over American Imperialism Day (17 April), and The Front Day (2 December). Both the Chinese and Buddhist new years are celebrated. The Buddhist New Year is in April and is celebrated for three days.
Vassa, the Buddhist Rains Retreat, is the period when monks halt their usual peregrinations during the monsoons and stay inside to meditate and pray. It is also known as the Buddhist Lent. During these months, restraint and abstinence must prevail. During this time, weddings are not held as a rule and moving house is avoided.
In the last week of September, near the end of the rainy season, an important Buddhist festival, Pchum Ben, takes place. It is a celebration on behalf of the dead and for one's own salvation. Before it begins, people are supposed to accomplish a seven-wat duty to please their ancestors. This involves worshipping at seven wat or performing seven moral good deeds (or a combination of both). Six weeks after Pchum Ben, large or wealthy families raise money to pay for the living expenses of the monks.
The Festival of the Reversing Current, which occurs between late October and late November, celebrates the return to normal direction of a river that reverses its current during the rainy season. When the flow of the river, the Tônlé Sab, returns to its original direction, fireworks, canoe racing, and general merrymaking erupt in Phnom Penh.
Funerals are also an occasion for gathering. White clothes are worn to funerals, and music is an integral part of the event.
Source: Encarta Interactive World Atlas
Events and Festivals for Year 2009
January 01: International New Year's Day

January 07: Victory Day Over Genocide Regime February 09:
Meak Bochea Day – Buddha's preaching

March 08:

International Women's Day

April 14-16: Cambodian New Year
A three-day celebration after the end of harvest to mark the turn of The New Year according to the Khmer lunar calendar. Every home is seen with attractive decorations. shrines are full of food and beverages given as offerings to God.. Other people attend Buddhist temples where traditional games are also performed.

May 01:

International Labor Day


May 08:

Visaka Bochea Day – Birthday of Buddha






May 12:

Royal Ploughing Ceremony

It is culturally celebrated to alert the nation of the commencement of rainy season, and farmers to be ready for farming rice by starting to plough. The venue is a field at a wing of Royal Palace, Phnom Penh. The scene is interesting as it depicts real ploughing activities where cows are given a variety of crops to eat. Based on the choices of crops eaten by the cows, prediction are made for the coming year.

May 13-15:

Birthday of King Sihamony
During king's birthday, a giant firework display is held close to the riverbanks in front of the Royal Palace.


June

18:

Royal Birthday of H.M Queen Mother Norodom Monineath Sihanouk


September

24:

Constitution's Day

September 18-20: Pchum Ben Day – The Soul Day
A religious festival to bless the souls of ancestors, relatives and friends alike who have passed away. Household members attend Buddhist temples.

October 29:

Royal Coronation of King Sihamoni

October

31:

Birthday of King Father Norodom Sihanouk

November

09:

Independence Day




November 01-03:

Water Festival

Not only it marks the reversing flow of Tonle Sap River but also ushers in the fishing season. The Highlight of the event is boat races over three days. As night falls, fireworks light the sky and a lighted flotilla of boats sail under full moon to whom household worships. Some analysts say the celebration is also a thanksgiving to the Mekong River for providing the country with fertile land. People from all walks of life gather on the bank of the Mekong River for days and nights.

December 02:

Angkor Half Marathon


International Half marathon. Held at the world renowned Angkor Wat an event which attracts competitors from all over the world. With thousands of spectators and the wonder of Angkor Wat, it is a spectacular setting.

December

10:

International Human Right's Day

Mid

December:

Angkor Festival


This festival is a showcase of performing arts with Angkor Wat as a backdrop. Performers from all over Asia attend this festival performing great epic stories from myths and legends, including the Ramayana, with their own national dance costumes and musical and rhythmic interpretations. Former King Sihanouk often attends when he is in residence in Siem Reap and other dignitaries come to

witness this wonderful spectacle.


Cambodia's Photos
resource
http://cambodiannation.wordpress.com/